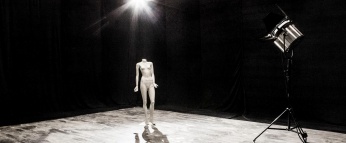 Dear colleagues!
White cyclorama of our studio can turn black if it is required for your filming process.
We have black velvet in our studio that we use to cover all white walls of the cyclorama within the shortest time frame, thus, getting excellent dark space.
Why with all the drastic changes?
The thing is, white walls generate more diffused light, more reflections. One does not have to worry about getting hard shadows in the picture.
Dark background is best suitable for portraiture. As long as the light is set correctly, frame depth and exposure are no issue. Black wall are perfect for shadow rendering.
The dimensions of our cyclorama are as follows:
Width – 9.5 m
Height – 5.5 m
Depth – 5 m
Total area of the studio – 250 sq. m
To rent the studio contact our manager in the Contact section.