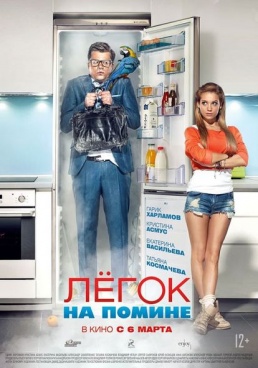 Speak of the devil
Genre: Romantic comedy
Synopsis:
The main character of the movie (Pavel) is a young and very successful realtor who conducted many semi legal affairs. Once he gets the task from his uncle – the owner of real estate company, a very unscrupulous and hard businessman. Pavel has to get authorization for selling the old manor. To obtain it he has to ingratiate himself with the owner of the real estate, a lonely old woman living in the family estate. The cunning plan has produced a result and the swindler agent gets this cherished paper and begins to prepare the estate for sale, celebrating his next victory. But it was not there!
Some higher authority intervenes in the course of the events. By nightfall, Pavel experiences rather strange and inexplicable events happening to him, – he somehow begins to move in space directly to the people who have just thought about him.
His customers, former friends, long forgotten relatives, mistresses, strangers who saw an advertisement with his photograph, the so-called "friends" in social networks … But it turns out that just a few people remember him with kindness.
Production: Enjoy Movies & Renovatio Entertainment