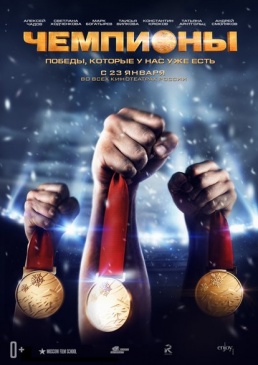 Champions
Genre: Sports drama
Synopsis : These are five real life stories of great victories of the Russian athletes. And each victory has as the background, the human stories that are intertwined with love, betrayal, friendship, respect, work and faith.
Faith in yourself and faith in victory.
A famous Soviet biathlete Nikolai Kruglov the Senior (two-time Olympic champion, three-time world champion) is ready to give everything for the sake of his son Nikolai Kruglov Jr. (Olympic silver medalist in 2006, a four-time world champion). After all, everything that happiness to your family worth gold.
A star figure skater Elena Berezhnaya survives terrible trauma. She will come back on the skating rink, because of her closest partner – Anton Sikharulidze. And they will win the Olympic Games in Salt Lake City! It combines a love worthy!
A young snowboarder Ekaterina Ilyukhin (silver medalist of the Olympic Games in 2010) will cope with all her fears and win the first medal for Russia in this new for this kind of sport. After all, friendship gives confidence.
A famous hockey player Ilya Kovalchuk (two-time world champion of the Russian team) will overcome a losing streak and score two decisive goals to the gate of our old rival – the Canadian Team. After all, a strong team creates a strong team leader.
A speed skater Svetlana Zhurova (twice world champion, Olympic champion in 2006) will go up to the end, she will not be afraid of the talks that her best time has passed, and she will win … no matter what it will take her! Her return is a victory in itself!
And all these stories are real victories of strong people. The victories which we have already gained…
Production
: Enjoy Movies & Renovatio Entertainment