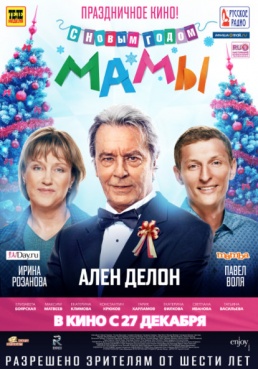 Happy New Year, Moms!
Genre: Romantic comedy
The anthology "Happy New Year, Moms!" is a continuation of the film "Mama", which has already gained much recognition from the audience. In this new movie, the audience will see new stories and new adventures of the new characters All of them are united by one feeling – love for their mothers. The anthology is comprised of five short stories.
Funny and touching, lyrical and comical – each story tells the story of a mother and her child, the two closest people in the world. No matter what happens, mother is the only person who will always love you…
Novella "War of Moms"
Director: Artem Aksenenko
Cast: Ekaterina Vilkova, Svetlana Ivanova, Maxim Vitorgan, Konstantin Kryukov etc.
Lena (Ivanova) and Masha (Vilkova) used to be best friends at school before one of them won the contest "Miss Snowflake". Many years have passed and now the daughters of the ex-close friends have to participate in exactly the same competition…
Novella "Cellist"
Director: Dmitry Grachev
Cast: Tatiana Vasilyeva, Viktor Vasilyev, Agnia Ditkovskite, Garik Kharlamov etc.
To make her son (Viktor Vasilyev) happy, his mother (Tatiana Vasilyeva) buys a ticket to go to Moscow to be able to attend a long-awaited concert where her son will skillfully perform his part on the cello. She cannot even imagine what she will see because she does not have even a vague idea what her son is actually doing…
Novella "Solomon solution"
Director: Klim Poplavsky
Cast: Ekaterina Klimova, Olga Sutulova, Ksenia Popovich, Alexei Grishin,
Viktoria (Ekaterina Klimova) is a successful business woman who occupies an important position in one dealership company (Alexei Grishin – director) and her work and career take all of her free time. Viktora's daughter, a 7 year old Sonya (Ksenia Popovich) sees very little of her mother and spends all her free time with her nanny Galina (Olga Sutulova). On the New Year's Eve Sonya writes a letter to Daddy Frost saying: «Dear Daddy Frost! Please make my nanny Galya my mother, so that we will never part with her". The nanny passes the letter to Viktoria
Novella "Lucky numbers"
Director: Anton Bormatov
Cast: Elizaveta Boyarskaya, Maxim Matveev, Roma Zenchuk
Ksenia (Liza Boyarskaya) and Zhenya (Maxim Matveev) – are a happily married couple. They are together for several years already and could have been perfectly happy if there was not for one problem – Ksenia fails to get pregnant. On the 7th wedding anniversary Ksenia presents her husband with a new sim-card where all figures are sevens, Evgeny's favorite number. And as soon as he inserts this sim-card into his phone, there comes a call which becomes fateful for this couple…
Novella "Paris"
Director: Sarik Andreasyan
Cast: Alain Delon, Irina Rozanova, Pavel Volya
Vera Evgenyevna (Irina Rozanova) works as a teacher of French in a provincial school for many years. But unfortunately she has never been to France. Her cherished dream is to visit this picturesque country that once gave birth to romance and Alain Delon. One beautiful morning she suddenly finds two flight tickets hidden in the refrigerator by her son (Pavel Volya). Deeply inspired, she calls her son and hears: «Mom, don't ask anything, just pack the luggage and we will fly to Paris!"
Production: Enjoy Movies & Renovatio Entertainment