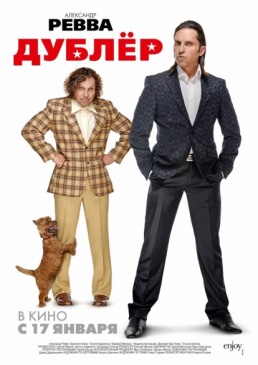 The Understudy
Genre: comedy
Synopsis:
The main character of our story is a successful actor, a show business star Igor Uspensky. His life is a continuous film shooting, concerts, presentations, corporate parties, interviews and get-together parties. He has to "spin" day and night without weekends and holidays.
And his charming wife and beautiful daughter see him at best late at night when he comes back home to sleep at least for a couple of hours. But all the efforts are not in vain. Igor is very popular and once he is nominated for the "Person of the Year" award – now he needs even more time to beat his main rival – the singer Mikhael Stasov, whose major hits brought to mind all the women of Russia.
In one Moscow suburban town there lives a man by name of Seva and he is remarkably alike with Igor Uspensky. He works in a beauty salon as a masseur; lives alone with his dog named Sergei Valer'evich, and he is completely satisfied with his life and does not believe that he looks like a star. One day the director of the salon persuades Seva to star in a commercial, where Igor Uspensky himself (performed by Seva, of course) is doing a massage for the beauty salon customers.
The video happens to appear on the Internet – and this way Uspensky knows about his "twin". Realizing that he does not have enough time for anything, Uspensky decides not to sue the salon, and offers Seva to become his understudy. He just needs to attend a few corporate events and social gatherings pretending that he is Igor Uspensky. Seva accepts the offer … and finds himself in the unfamiliar world of show business, where incredible adventures are waiting for him …
Production: Enjoy Movies & Renovatio Entertainment